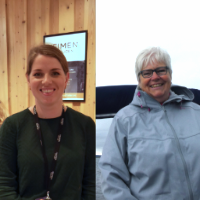 Join us as we travel to Oslo, Norway to talk to a barnehage (literally: kindergarden) teacher named Torhild to learn how Norwegian kids have it differently and the same as us in the USA.  We also examine Norwegian folk costumes, or bunads...and what it takes to get one. We meet Hanne at Heimen Husfliden in Oslo as she tells us about her job selling bunads.
We finish the show with some foot-stomping fiddle and guitar tunes by Ruthie Dornfeld and Alfred Morten Høirup. Check out Darryl Jackson's music too at darryljacksonmusic.com.
If you enjoy our show you'll soon be able to visit us on Facebook and at our website, NordicOnTap.com! Vi sees!